WHY USE A RAIN BARREL?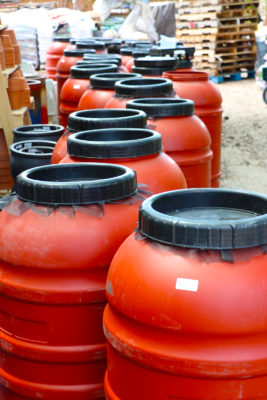 Rain barrels capture water from a roof and hold it for later use such as on lawns, gardens or indoor plants. Collecting roof runoff in rain barrels reduces the amount of water that flows from your property. It's a great way to conserve water and it's free water for use in your landscape.
Here are 3 good reasons to use one:
* You'll cut back on your water bill. Your rain barrel can collect runoff during storms and rain, which you can then use on your lawn and garden, dramatically reducing the amount of water you use from your home water line during the summer months.
* Rain water is actually better for your plants.
Even if you don't have the greenest thumb, you can help your plants, shrubs, trees, and grass grow better by watering with collected rain water. Plants love natural rain water that isn't chlorinated or fluoridated like municipal water normally is, so collected rain water is the best choice for watering your plants.
* You can help minimize direct runoff.
Direct runoff refers to the dramatic surface runoff of water that floods into sewers during rainy and snowy weather. In industrialized areas, all the concrete, houses, and other impermeable surfaces keep the rain water from soaking into the ground where it lands, as it normally would. When the water is, instead, flooding into the sewage system, the system can overload, resulting in major problems such as flooding downstream and leakages at local sewage treatment plants. By collecting the rain water that lands on your roof, you can do your part to minimize these problems.