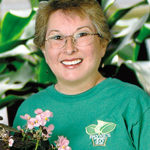 WEEK 8 IN THE GREENHOUSE!
Although, it is 39 degrees outdoors and it will be dropping into the 20s at night, it is nice and warm in the greenhouse. We are busy planting crops for early spring sales. We have brought in some of the crops that can handle the cold in from the outdoors to allow them to thaw and start blooming again. We have some great looking pansies in packs and in 5″ pots. We also have some Dianthus and Snapdragons. These can be potted into pots outdoors, just remember to cover the pots at night to keep them from freezing as they need to hardened off.
We have also been busy planting Fairy Garden plants for those customers who prefer small scale planting. What is a Fairy Garden?   A fairy garden is a miniature garden complete with structures and actual living plants. It is designed to give your green thumb a place to tend year-round. It is a tiny space created and tended with love. It is also supposed to lure fairies and with them, bring good luck to your home. Many different plants can be used for these gardens. We also have many miniatures that can be added to the garden.