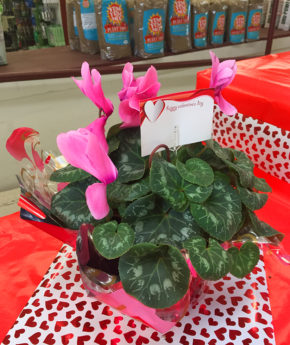 Choose from a variety of plants that will bring a smile to your Valentine everyday! AND receive FREE Gift Wrapping for those plants with coupon from the SPECIALS page.
Payne's has the perfect Valentine's Day gift ideas – beautiful, long-lasting, live blooming plants that will keep reminding your sweetheart about your long-lasting love.
Stop by and check out our special creations
of blooming plants lovingly fashioned by our
accomplished designers such as these beautiful
VDAY Ivy Hearts, Cyclamen baskets, chocolate
heart plants and more! At the SOUTH STORE ONLY!
Some flowering plants to choose from include:
Cyclamen
Orchids
Bromeliads
Gardenias
Mums
Indoor Succulents
Anthuriums
Popular plants and colors go fast,
so order today for Valentine's Day delivery.
Local delivery is available for a small fee.