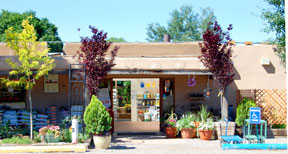 The Payne family has been in the nursery business in Santa Fe since 1952. We have always taken pride in offering the best merchandise and quality of service to provide our customers with top-quality plant materials, the best products, and professional expertise to help them enjoy growing everything from large trees to delicate orchids.
In April, 1944, Sherman and Emille Payne — the parents of Payne's Nurseries' present owner, Lynn Payne — opened their first full service nursery and flower shop. They were living in Shelby, Michigan at the time, and they named their new business Shelby Greenhouse. Seven years later, the Paynes moved to Santa Fe, New Mexico. After a brief partnership with the now-defunct Santa Fe Nursery Company on Camino Alire, the Paynes leased a nursery on Delgado Street.
A few years later, they decided to build their own facility. In the summer of 1954 they began construction of a new nursery on Cerrillos Road, which opened in spring of 1955, at the present location of Jackalope Pottery. The Paynes operated the nursery until 1965, when they sold the business and retired.
That retirement was short lived: In 1968, to keep active, Sherman and Emille opened the present Payne's Nursery — we call it "Payne's Nursery South" — at 715 St. Michael's Drive to serve retail customers with both green goods (plants) and hard goods. In 1973, their son Lynn purchased the business from them and Sherman and Emille continued to work at the store until 1975, when they retired again.
Lynn Payne expanded the St. Michael's Drive store by adding a full-service florist shop in 1984 and continued to make improvements and expansions in the business. In February, 1986, he acquired the property and inventory of Santa Fe Nursery Company, the same business at 304 Camino Alire that his parents were partners in when they first came to Santa Fe 35 years before. This second nursery — we call it "Payne's Nursery North" —  serves as a source of retail products as well as wholesale plant material for local building and landscape contractors.
Nine months after the North store was purchased, disaster struck: In November the Payne's Nursery on St. Michael's Drive was destroyed by fire, then rebuilt incorporating a fresh design with expanded retail sales areas and office space.
In 1989, Lynn and his wife Judy set up LandMasters, a design-and-installation landscape company. It successfully provided beautiful designs and healthy plants for both residential and commercial projects while sharing space at Payne's South. When the landscape business  needed more space, they relocated to five acres the Paynes had purchased near the junction of Agua Fria Street and Airport Road. Eventually the Paynes renamed this location Payne's Organic Soil Yard (POSY), where today it provides one of the largest selections of bulk organic soil amendments and mulches available in Northern New Mexico.
As the economy ebbed and flowed and as the Santa Fe market grew and changed, Payne's businesses changed with it. Both LandMasters and the florist shop were phased out over in the late 1990s and we focused more effort on our retail stores and Payne's Organic Soil Yard.
Throughout our many changes and expansions, Payne's Nurseries and Greenhouses, Inc. has steadfastly remained a local, New Mexico family-owned-and-operated company. In an age of conglomerates and "big box" stores we continue to strive to fulfill our mission: to be a full-service nursery providing our customers with the best quality products at the best possible prices.
We are grateful to the customers who have made our success possible. We hope to serve the community for many years to come.