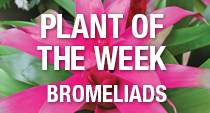 BROMELIADS
One of Payne's most popular gift plants, bromeliads are colorful, easy-care and pest-resistant houseplants that are native to Brazil. They are often called "air plants" because in their natural habitats they grow on trees.
Bromeliads bear rosettes of durable, patterned, strap-like leaves and bright blossom spikes that can last for up to 8 months.
SIGN UP FOR OUR NEWSLETTER FROM THE HOME PAGE AND START RECEIVING WEEKLY COUPONS VIA OUR E-NEWSLETTER!