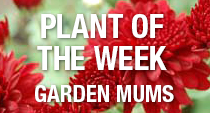 GARDEN MUMS

Garden mums prefer full sun, regular watering, and a well-drained, compost enriched soil and regular fertilizing.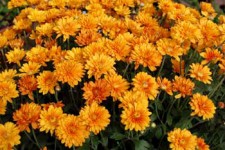 When blossoms fade, cut the flowers off just below the heads, leaving as much stem as possible. Mums need both their stems and their leaves left on so they can keep photosynthesizing to store enough energy for winter. 
SIGN UP FOR OUR NEWSLETTER FROM THE HOME PAGE AND START RECEIVING WEEKLY COUPONS VIA OUR E-NEWSLETTER!