DIANTHUS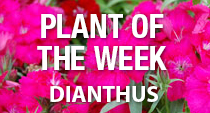 Dianthus are great fillers in hanging baskets and "color bowls" (mixed plants in pots) and can make a lovely border in a flower bed. They grow in soft green mounds and bear short-stemmed heads of lightly scented, fringed flowers — single to double —  in white, pink, red, and bi-colors. They need regular watering and a well-drained, composted soil. Bees and butterflies love them!
EBLAST NEWSLETTER AND PASATIEMPO COUPON
Sign up today from the HOME PAGE and start
receiving WEEKLY SPECIALS such as the coupon below!