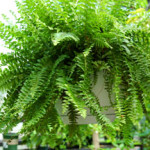 Bring a touch of the tropics to your house with the popular, easy-care Boston Fern. 

This gorgeous medium-green plant with slender arching fronds needs bright, filtered light, and definitely needs to avoid direct sun. 

It needs plenty of humidity, so it loves to live near a sink or bath tub. If neither of those is an option just be sure to mist it frequently.