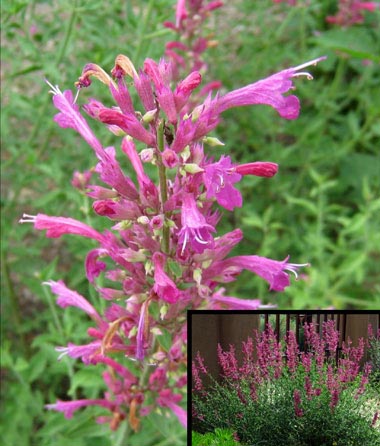 Agastache
Agastaches –  hummingbird mints are a group of showy perennial herbs in the mint family that bloom in summer. Some of them are drought- and sun-tolerant and do very well in northern New Mexico. They have small, thin, tubular flowers and fragrant leaves that attract hummingbirds, butterflies and bees.
They need well-drained soil and at least 6 hours of full, direct sun daily. After established, water deeply once a week spring through fall, and in winter if the season is dry.
The pink humming bird mint shown is "Double Bubblemint Hyssop" (Agastache cana) and it has a bubblegum fragrance. The one above, right, is "Sunset Hyssop" (Agastache rupetris) and it has a wonderful root beer aroma.
There are many, many more varieties of Agastache, so please visit either of our Garden Centers to choose the preferable color, fragrance or size.
Type of Plant: Herb
Distinguishing Characteristics: Ornamental perennial herb in the mint family
Water Use: Moderate
Flower Color: Various
Sun/Location: Full to Part Sun