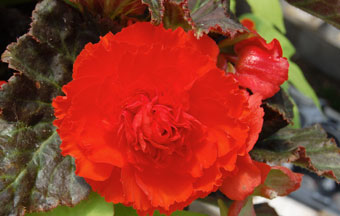 Begonia fibrous; B. tuberous
Begonias are well known for being wonderful indoor houseplants, but there are many different varieties, including those that work beautifully outdoors in northern New Mexico throughout spring, summer and early fall. They are good "fillers" in flower beds, window boxes and hanging baskets and some "spill" over the edge of the pot to add interest and contrast. Tuberous begonias are particularly nice in planters, and fibrous begonias are excellent choices to create colorful flower beds.
All begonias prefer sun or bright shade, but some of the newer varieties can take a range of light from full sun to shade. Note: long exposure to strong sunlight can burn the flowers and leaves, and too much shade will cause them to grow more leaves than flowers. They need fertile, well-drained soil.
Type of Plant:
Distinguishing Characteristics:
Water Use: Moderate
Flower Color: Various
Sun/Location: Full to Part Sun