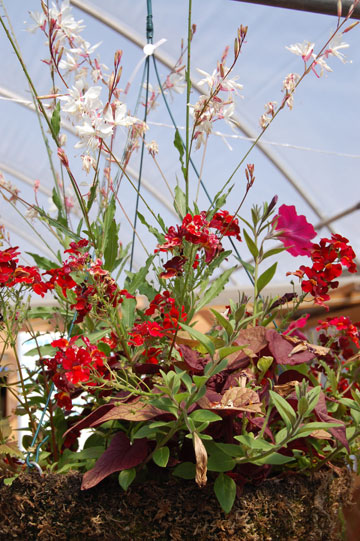 Gaura lindheimeri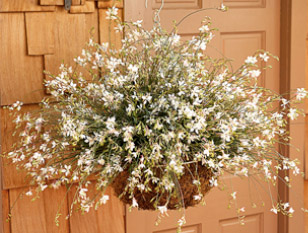 Add a spectacular dimension to a hanging basket or color bowl (container planting) with the tall, upright stems and delicate white or pink flowers of this "thriller." Plant it in the center of a pot so that it can be viewed from all sides or at the back of a pot that will be displayed in a corner or against a wall.
This is a fast-growing, long-lasting and easy care plant that does best in fertile, well-drawined soil. If it is planted in a pot it may need watering daily; it uses less water when planted in the ground. Fertilize it at least once per week to keep it blooming from spring to first frost. It's a low maintenance, self-cleaning plant and no deadheading is necessary.
Of course a plant called "whirling butterfly" has to attract butterflies. Bees and hummingbirds like them, too.
Type of Plant: Annual
Distinguishing Characteristics: Small butterfly shaped flowers floating atop willowy foliage.
Water Use: High
Flower Color: Various
Sun/Location: Full Sun, Part Sun