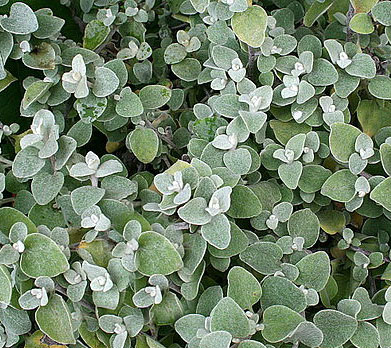 Helichrysum petiolare
Often used as an accent in container plantings, Licorce Vine is low-growing and semi-trailing with silvery gray fuzzy leaves and no flowers. It provides a great contrast for other plants in hanging baskets when used as a filler, and adds dramatic effect when it spills over the side of the pot.
This is a fast growing annual that does best in full sun, planted in fertile well-drained soil. It is low maintenance, requiring water when the surface of the soil is dry, and can withstand some drought conditions. Fertilize at least twice a month to keep it healthy.
Photo: Jean-Pol Grandmont
Type of Plant: Annual
Distinguishing Characteristics: Low-growing and semi-trailing. No flowers.
Water Use: Low
Flower Color: NA
Sun/Location: Full Sun