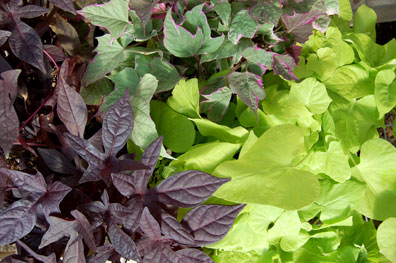 Impomoea batatas
Potato vines are showy lime green or black (dark purple) plants that are mostly used in hanging baskets and combined in pots with other plants. They look like vines and spill over the edges of the container to add dimension and interest.
Regular watering makes this low maintenance plant grow vigorously, especially when planted in fertile, well-drained soil and fertilized regularly.
Potato vines rarely bloom, but when they do their flowers are lavender color. Fun fact: The tubers of these ornamental varieties are edible, but are not as tasty as those of the varieties specifically bred for food production.
Type of Plant: Annual
Distinguishing Characteristics: Showy plants usually found combined with other flowers in pots or hanging baskets
Water Use: Moderate
Flower Color: NA
Sun/Location: Full Sun to Shade