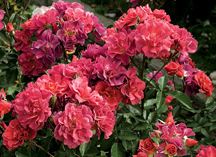 Rosa
Cinco de Mayo is just one of the many wonderful floribunda roses we're offering this year. The color is an indescribable blend of rust-red and lavender-smoke. It's very rounded and bushy. Get the complete list of what's available on our Roses page.
Type of Plant: Floribunda Rose Bush
Distinguishing Characteristics: Medium sized flowers often more compact in habit, medium length stems.
Water Use: Moderate
Flower Color: Various
Sun/Location: Full Sun