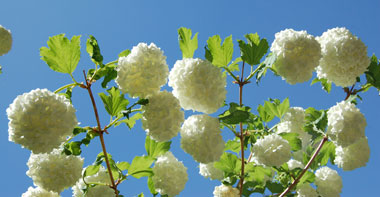 Viburlnum opulus 'Sterile'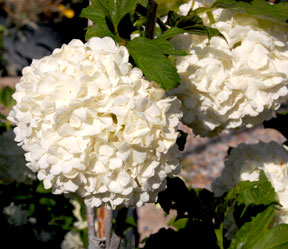 The best kind of snowballs to see in spring are the masses of pure white flower clusters on commonly called—what else?—snowball bushes. The showy display of this deciduous bush can be seen all around town in May and June. In fall, the bush's bright green leaves turn a purplish-red.
Snowball bushes grow in just about any type of soil, including clay.  Be sure to follow a regular watering schedule during the first growing season to establish a deep, extensive root system. Once established, it is drought tolerant.
Type of Plant: Ornamental Deciduous Shrub
Distinguishing Characteristics: Showy display of white flowers in spring
Water Use: Low
Flower Color: White
Sun/Location: Full Sun