About the time most people are having picnics and fireworks at July 4 celebrations, Payne's production department begins planting hundreds of poinsettias so you will have plenty of homegrown plants to choose from for your holiday decorating.
Our staff faithfully waters them, fertilizes them and makes sure the light and temperature are just right until they are big, bright and beautiful.
We have taken progress photos over the past few years to show you how the plants look as they mature. By the end of November these "babies" are gorgeous.
Mid July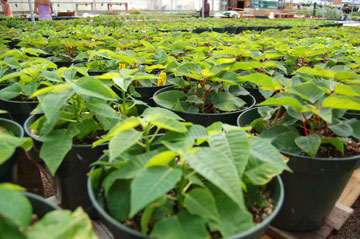 Mid August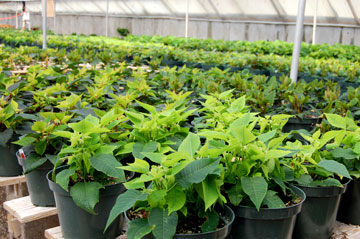 Mid September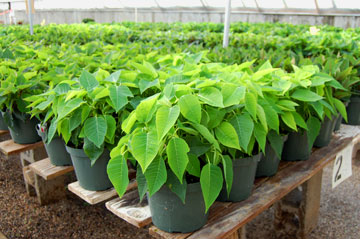 Last Week of September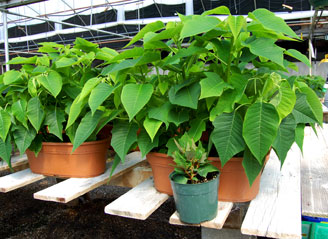 Mid October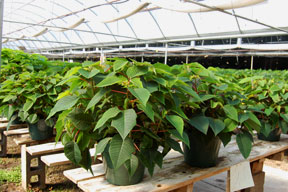 Early November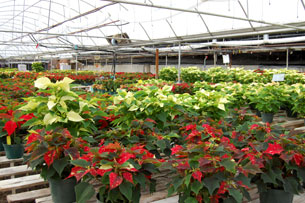 Late November 
— Gorgeous and Ready to Go!

Why buy locally grown poinsettias?
Quality: Payne's poinsettias are larger, fuller and will last longer because they are adapted to our climate and light—unlike plants shipped in from far, far away (which also increases carbon footprint).
Value: With resonable prices and a wide variety of colors and leaf shapes. Colors include several different shades of red as well as white, pink, burgundy and many more to accent any décor. We can also provide plant gift wrapping and local delivery.
Jobs: Payne's production staff live here, work here year 'round. They make local purchases, too, which creates jobs for other Santa Feans.