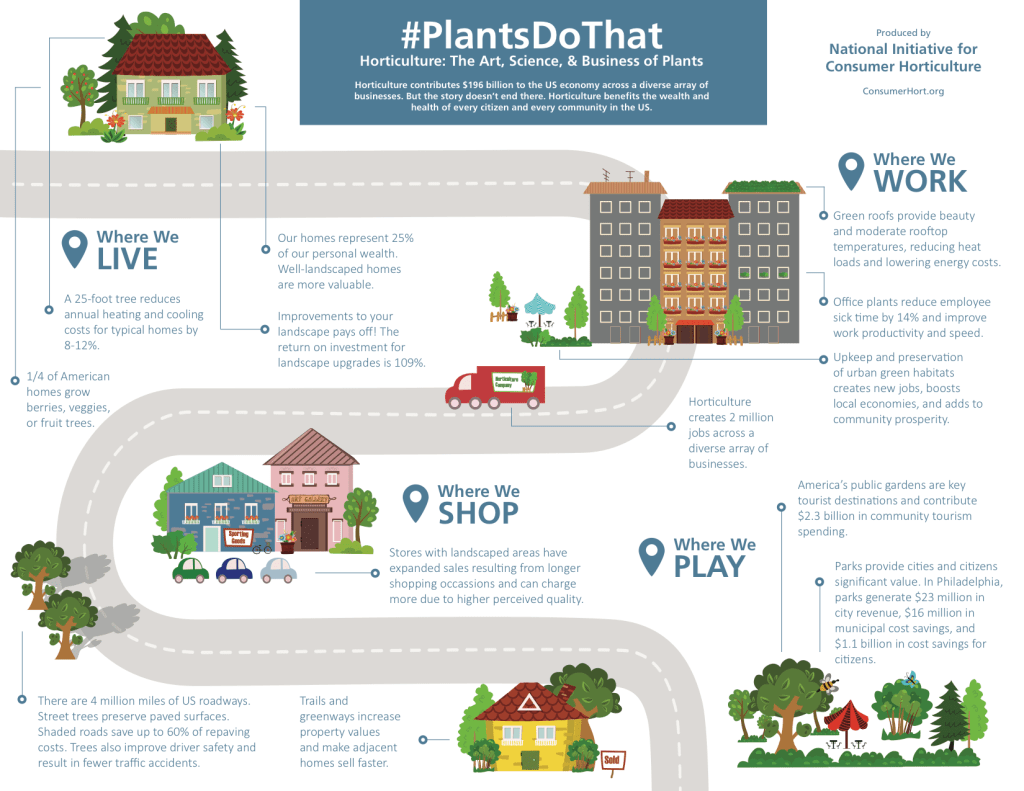 The Power of Plants: Enriching Lives, Creating Jobs, Building Wealth, Saving Money
The benefits of consumer horticulture are spotlighted in "#PlantsDoThat, Horticulture: The Art, Science, & Business of Plants," from the National Initiative for Consumer Horticulture (NICH).
As the #PlantsDoThat infographic above shows, plants benefit society in many ways:
Plants in the workplace reduce employee sick time by 14%
Well-landscaped homes are more valuable; since homes represent 25% of personal wealth, outdoor plants pack a powerful personal finance punch
American's are growing more of their own food-25% of all Americans grow berries, veggies or fruit trees
Shaded roadways save 60% of repaving costs
America's public gardens generate $2.3 billion in tourism spending
The #PlantsDoThat infographic was developed by the NICH Economic Committee using data gathered by Dr. Charlie Hall, the Ellison Endowed Chair in International Floriculture at Texas A&M University. It's the first of a number of infographics to showcase the growing evidence base of the power of plants to improve life. The infographic series is available to companies, institutions and individuals for use in outreach to horticulture industry and non-industry members to grow a healthy world through plants, gardens, and landscapes.
Article and image courtesy: consumerhort.org