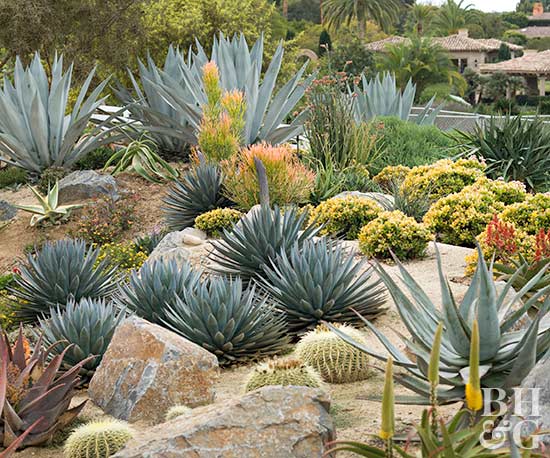 Whether grown as houseplants or outdoors, cactus plants add plenty of interest to your home—especially when featured as a collection. Here's a brief guide to growing these easy-care plants.

By Michelle Ullman, Better Homes & Gardens
Outdoor Cactus Landscaping Ideas: If you live in a mild-winter climate, you can plant a backyard cactus garden. There are many outdoor cactus garden designs, including:
Cacti scattered among flowering perennials or small shrubs.
A desert-inspired cactus landscape surrounded by gravel or crushed stone.
A wall of tall cacti varieties, such as organ pipe cactus, blue candle, or cow's tongue cactus.
One spectacular cactus used as a specimen plant: large barrel cactus, blueberry cactus, and prickly pear cactus work well for this.
Container Cactus Gardens: The beauty of a container cactus garden is that you can plant one even if you live in a cold-winter area; you'll just need to overwinter your cacti somewhere protected. A few cactus arrangements for outdoor containers include:
An assortment of small cacti in a shallow terra-cotta bowl.
Several containers, each with one large variety of cacti or another succulent.
Hanging baskets planted with cacti: rattail cactus, orchid cactus, and Christmas cactus are possibilities.
A mixture of colorful annual or perennial flowers and cacti plants.
Indoor Cactus Decoration Ideas: If you have a bright, sunny window, you can grow a cactus indoors.
Cactus terrariums are especially popular; a glass bowl, box, or even hanging ornament filled with small varieties of cactus and other succulents is a fascinating slice of the desert world brought indoors. Remember, though, that a cactus terrarium must be planted in an open container; too much humidity can rot your plants.
Show off a collection of mini cacti in equally small, yet decorative, containers along your windowsill.
Grow a tall cactus in a spot you'd like to highlight, such as near the fireplace, by the bottom of the stairs, or in a corner near a window.
Assemble a miniature desert garden with small cacti and desert animal figurines in a rustic wood or terra-cotta container.
CLICK HERE to read more.