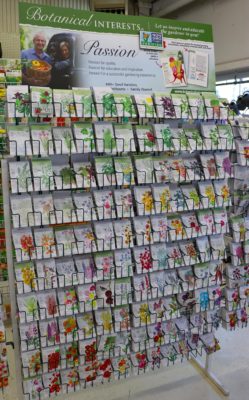 January is the best time to start planning your garden.
1. Start collecting your seeds and looking at various plants that you would like to see in your gardens.
2. Once your list is compiled, get your seeds early so you can have the best selection!
3. Consider growing your own seedlings indoors if you have the time and space.
4. Plan on building a plant stand to start seeds indoors, particularly if you have adequate light.
5. Consult your garden notebook or notes from previous years on what grew and performed best in your landscape.
6. Sterilize old containers and pots by scrubbing off old soil and debris with a scouring pad. Soak in a solution of bleach and warm water for a half-hour or so then, rinse with clear water.
Our 2021 seeds are here and our seed racks are stocked and ready – with plenty of varieties to choose from. Brands like: Lake Valley Organics, Peppers of the World, Botanical Interests and more! If you're not sure about which variety to choose, our gardening experts will help you decide!