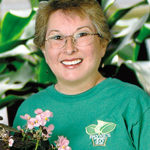 SUMMER, FALL, and CHRISTMAS … ALL IN ONE!
As I get older, time seems to pass quicker. Just yesterday, we were planting vegetable seedlings and getting ready for our frost-free date. Today, we just finished planting the second crop of Poinsettias for Christmas sales. Like the fashion industry, we are always working opposite of what the season may be.
But, don't fret, we still have a good selection of annuals to get you through all the summer events and we also have a new crop of garden mums. This are ready for you to transplant into your gardens for Fall color. Next week, we will start planting other fall flower crops. Come see the ever changing greenhouses.
HAPPY GARDENING!