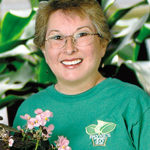 GRASSES – FOOD FOR THE SOUL!
If you read through the pages of the Emerald Coast Growers catalog, they refer to grasses as soul food. They are a feast for the eyes and watching them sway in the wind is very comforting.  Many of the birds find them to be a food source, a place to nest and hide from birds of prey. They provide 'winter interest' and they sway above the snow covered ground.
We have several varieties in stock.  Two of the most popular are Calamagrostis 'Karl Foerster' which forms erect clumps with feathery tan plumes and Erianthus ravennae 'Hardy Pampas Grass' with feathery flower stocks soaring high above ground.  One of my favorites is Panicum v. 'Heavy Metal' with gray blue leaves and a strong upright appearance.  Come see these and other varieties we have in stock.
HAPPY GARDENING!