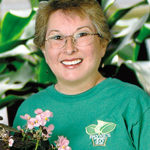 DO YOU HAVE TULIPS AND DAFFODILS? HOW ABOUT PANSIES?
These are the two questions that I have been asked most this week. Unfortunately, the Tulips and Daffodils should have been planted in the Fall.
Tulip bulbs require at least 14 weeks of cold weather to help them develop the flower buds so that they will bloom when the weather warms. While planting them outdoors in spring may provide you with a lovely foliage plant, it most likely will not provide tulip flowers until the following spring. However, if you have bulbs laying around, do get them into the ground as they are not like seeds and will not last a long time. Take your chances and see if they bloom for you next year. Daffodils do not require chilling, but do best when given sufficient time to establish in the garden.
As for the pansies, they are in the works. Our plants in the greenhouse are rooted in but are just starting to bloom. They will be blooming by next weekend. They can be planted outside now as long as the night temperatures are above freezing. Once they are established, the cold will not hurt them. It would be best to harden them off a few days before planting
HAPPY GARDENING!