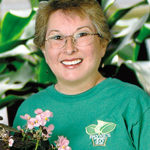 PATIENCE!
The ability to wait calmly; the capacity to accept delay. In today's world of instant everything, one's ability to wait and see what a plant will do has diminished. Recently, a customer bought a shrub, took it home, then brought it back later in the week stating that the shrub was dead or possibly defective.
The manager worked with the customer to return the plant as the customer had their receipt of purchase and understood the terms of replacement. I posted this last year in July.
Now almost a year later, you can see how a little TLC can bring back an almost dead plant back to life and prove that patience can make a difference. First picture is on July 1, 2018; the second on July 16, 2018, the third on July 22, 2018. The fourth picture was taken on May 2 and the last was taken on May 9. Patience, patience. We have to learn to slow down and give plants a chance. This shrub will now be planted in our yard at home and is sure to bring us many years of joy.
HAPPY GARDENING!