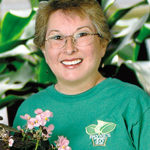 MAKING CHRISTMAS PERFECT! 
As the holidays near, I see everyone stressing over decorating their homes so that they are perfect when company comes. I have had customers almost in tears when we do not have the perfect poinsettia or enough paper whites. Questions like "when will the next shipments be coming in"?  Why do you not have them?  Sometimes we have control of what is coming in and sometimes we do not.
This year we have seen hurricanes in the South, tornados in the Midwest and fires in the West. All of these events impact what plant material we can get and when. The poinsettias, no problem, we have been growing them since July. We just received our Christmas cactus. These come from Florida and many of our suppliers lost inventory due to the storms.  Another shipment of paper whites is due any day.
Yes, we love that you come in and purchase your plants and flowers from us. But remember, the holidays are about family and friends getting together and catching up on each other's lives.
HAPPY GARDENING!