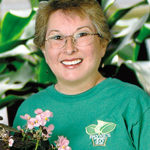 Spring is springing up in the Greenhouse!
At the South store, we are planting geraniums and up-potting plants that need more space to grow. At the North, however, we are in full swing. Daniel and Patricia are filling the tables with perennials. We start with seeds and baby starts. As they get bigger, they are transplanted into bigger pots.
One of the most popular plants in Santa Fe is the Hollyhock. It is one of those plants that pops up everywhere and can be seen in many paintings by local artists. Another must have plant or should I say grass is the Mexican Feather Grass.  It is wildly popular and used by home gardeners and landscape professionals. It is loved for its fine, delicate texture. Unlike other grasses, it is extremely drought tolerant. We are also growing many groundcovers.
Though many of these plants are not ready for sale, it is worth a stroll through the greenhouse to see what will be available in the coming months.
HAPPY NEW YEAR AND HAPPY GARDENING!