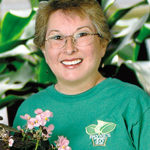 MANY OF YOU ARE KICKING BACK AND ENJOYING YOUR BACKYARDS NOW THAT IT HAS WARMED UP AND THE THREAT OF FREEZE IS GONE…
however, for some of our customers – where they live has complicated matters. Just south of the city in the Seton Village area, our customers experienced a wild hail storm last evening. The experienced gardener living in the area knows to wait closer to May 30. Unfortunately the 'Newbies' and those who cannot wait went ahead and planted their gardens and had them turned to mush. It is now time to start over.
As a local nursery, we understand our area's unpredictable weather and keep restocking our greenhouses with new plant material to fill all of our customers needs. If your plants were damaged by the hail storm and are well-rooted, give them a supplemental feeding. They should recover. If you need to replenish, we still have a good selection of annuals and perennials. Breathe, breathe, breathe.
HAPPY GARDENING!