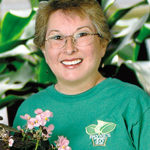 THERE'S ALOT TO BE SAID ABOUT BRICK-AND-MORTAR!
In today's world of technology, many do their shopping on line or call around town trying to find the best deal. Very rarely, do they actually visit the different stores to compare not only prices, but quality. A poinsettia in a 6.5″ or 10″ pot can vary greatly from store to store. I believe this is why our regular customers come back to us year after year as they know our quality. They also know that we grow our own poinsettias and do not have them shipped in from out-of-state.
Because we do grow our own poinsettias, we are able to grow many varieties and plant them in many different sizes of pots. As I have mentioned before, plants don't take a holiday. They want to be tended to every day not just Monday through Friday. Therefore, on Thanksgiving Day, our production staff will be here watering and fertilizing the poinsettia crop along with all the other plants. The staff feels that they cannot enjoy the day until the plants have been hydrated and fed.
HAPPY GARDENING!