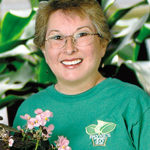 FIELDS OF GOLD!
Instead of a view from the greenhouse, I have chosen a view from my front and back yards. When I look out, I am reminded of a song by Sting, the lyrics 'you can tell the sun in his jealous sky when we walked in the fields of gold. When we walked in the fields of gold…'
 All I see for miles around me are fields of gold. The Chamisa in full bloom, the snakeweed and golden asters are in their splendor. And, even more glorious, are the fields of Golden Crownbeard (verbesina encelioides) also known as Cowpen daisies. Because of the late summer rains, this year we have one of the best showings of this beautiful wildflower. Everywhere you look and drive, there are fields of golden daisies.
 We are getting at least a dozen calls a day asking if we know what these wildflowers are. Growing up, I remember my grandmother gathering the leaves and drying them as they are considered a medicinal herb.
HAPPY GARDENING!