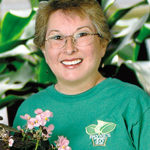 COLD WEATHER MAKES ME THINK OF CHILE!
These last few weeks have been exceptionally cold. It is hard to concentrate on planning for spring with temperatures dipping into the teens and twenties. The chill makes me think about Chile. And yes, we spell it chile using the Spanish spelling. I grew up in northern New Mexico and chile, be it red or green, is part of every meal. Our state vehicle license plates claim we are 'The Chile Capitol of the World'.
Personally, I prefer varieties like 'Joe E. Parker' for green chile and allow the 'Nambe' to ripen on the vine for red. Why, you ask? Northern varieties are thin-meated. If you do not know how to roast it correctly, you take the chance of burning it and having nothing left after you remove the peel. But if you allow it to ripen on the vine, there is no better red chile to be found anywhere. The southern varieties are much meatier therefore easier to roast.
NOTE: New Mexico State University is preparing to host the world's largest conference dedicated to chili peppers. The 2020 New Mexico Chile Conference will run Feb. 3-4 at the Las Cruces Convention Center. The university's Chile Pepper Institute has been organizing the annual conference for about three decades.
HAPPY GARDENING!