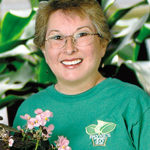 DO CHRISTMAS CACTUS BLOOM AT CHRISTMAS?
From my experience, Christmas cactus bloom anytime between Halloween and New Year's. At present, we have a great selection in hanging baskets. We have the standard Scarlet Red, White and Purple. We also have the unusual Yellow plus some baskets with mixed colors.
For those with Christmas cactus at home remember that they need at least 12-14 hours of darkness to encourage bud development. Also keep them on the drier side. They also prefer cooler temperatures, around 50-55 degrees F.   It is recommended that you give you cactus at least 8 to 12 weeks to set bud. If you want blooms for Christmas, get busy following the above.  If they don't bloom, they may bloom at Easter.
HAPPY GARDENING!