Houseplants Make Great Gifts!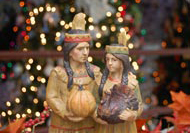 Fresh flowers fade fast, but beautiful blooming plants last and last. Come to Payne's for the best selection of top quality tropical and seasonal plants.
If you're hosting Thanksgiving Dinner, set the mood with some of our Thanksgiving table decorations, if you're attending a festive occasion, bring a flowering plant for the host or hostess.
Stop by either of our Payne's locations and pick up any of these colorful gifts to help you say THANK YOU!