Payne's Nursery grows the prettiest,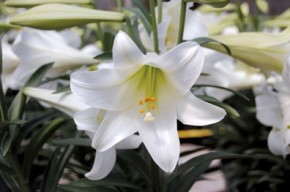 longest-lasting, most fragrant Easter lilies you will find in Santa Fe. With its beautiful trumpet-shaped blossoms, the Easter Lily is said to symbolize purity, hope, and life, the spiritual essence of Easter and all the promises of Spring.
Gift wrapping is available for a small fee. Local delivery is available.
Click here to see the growing progress of Payne's homegrown lily crop.