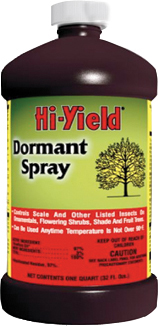 Now that Spring is just a little more than a month away, it's time to treat your fruit trees and evergreens with horticultural oil spray, also known as dormant oil spray. We have everything you need, including expert tips, to help protect your trees. Dormant and horticultural oil sprays work by smothering overwintering insect eggs. Please make sure it's above 50 degrees before you spray and before it freezes at night.
The first spray of the season should be applied as the buds on the tree or shrub begin to swell, but before they open.
CLICK HERE to learn more about how to use Dormant Oil.
IN STOCK NOW! Stop by either location today.
TJ's TIP: Don't spray when it's windy and cover anything you don't want oil to get on because it will be difficult to remove or clean.